Automated Import
Staff member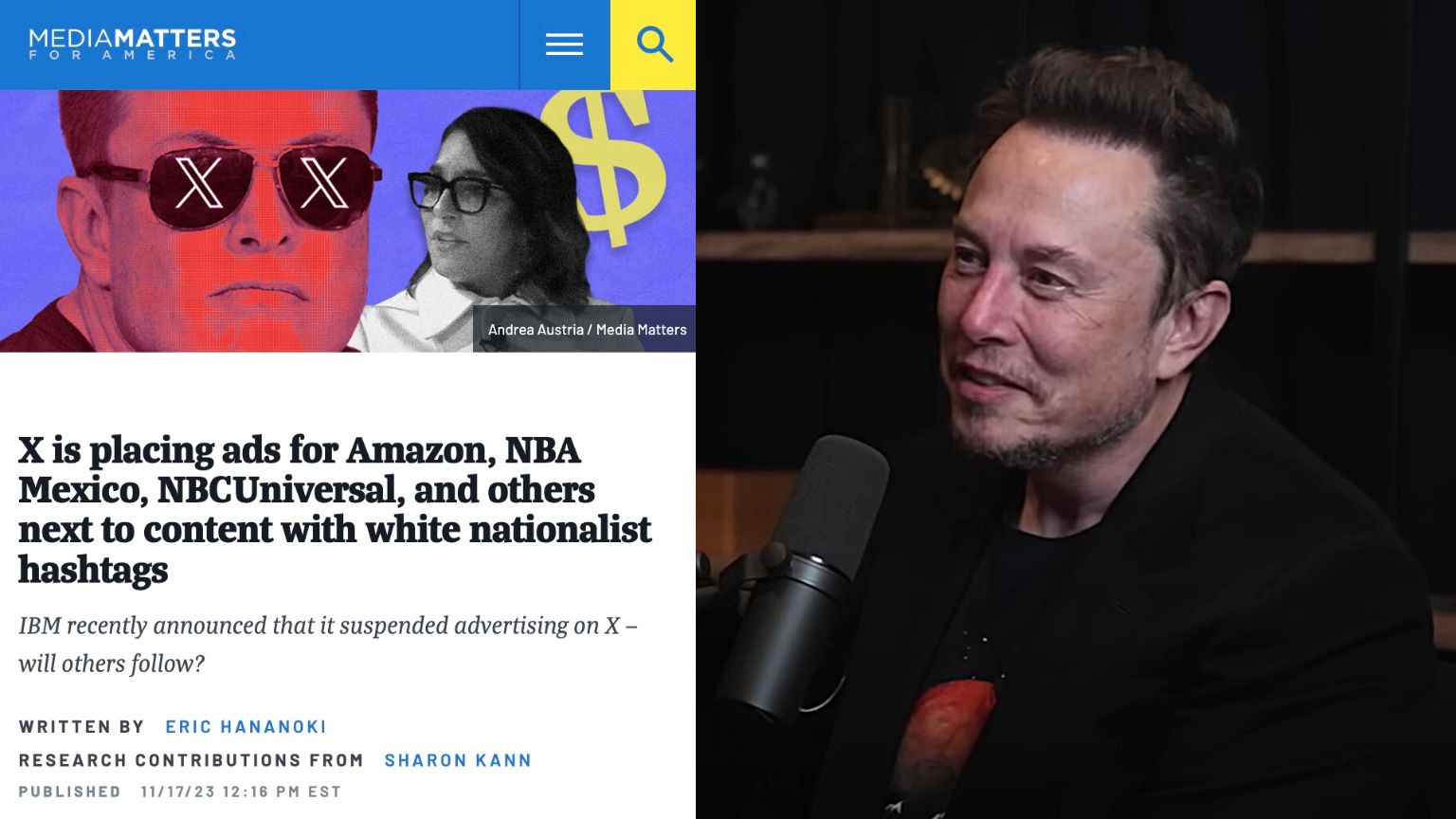 In a bold statement issued early Saturday, Elon Musk announced his intention to take aggressive legal action against Media Matters, a non-profit organization that pushes for online censorship. He accused the group and its associates of grossly distorting the user experience on his social media platform, X.
Musk's planned lawsuit, which he describes as "thermonuclear," targets not only Media Matters but also "all those who colluded" with them.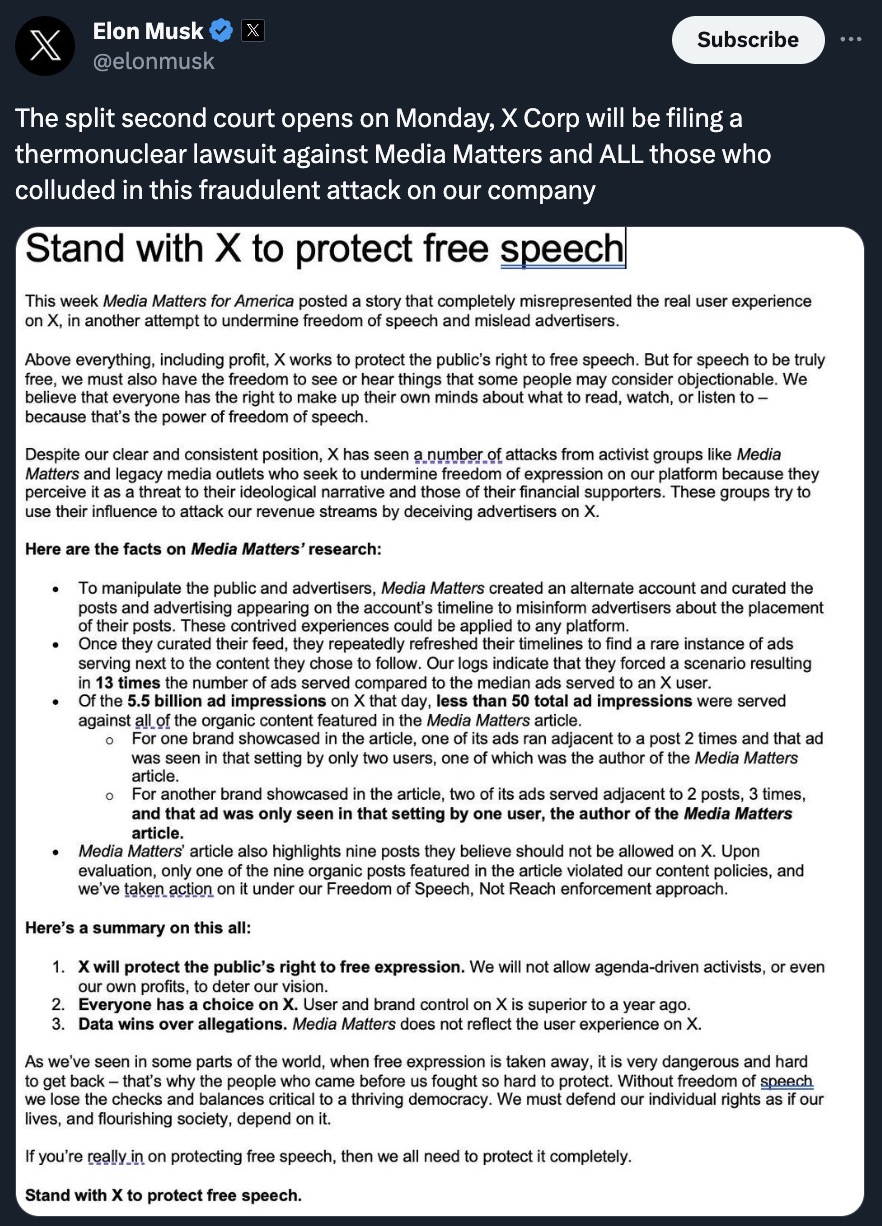 Musk's response comes in the wake of a Media Matters report published on Thursday.
The report alleged that on X, advertisements from prominent companies like Apple, Disney, factions of NBCUniversal, IBM, Oracle, and Comcast were being displayed alongside content promoting "antisemitic conspiracy theories."
In a fiery critique, Musk condemned these allegations as a blatant attempt to tarnish X's reputation. He asserted that such attacks stem from a broader agenda to suppress free speech.
Musk views the actions of Media Matters and similar groups as part of a concerted effort by certain activist organizations and legacy media to stifle the freedom of expression on X.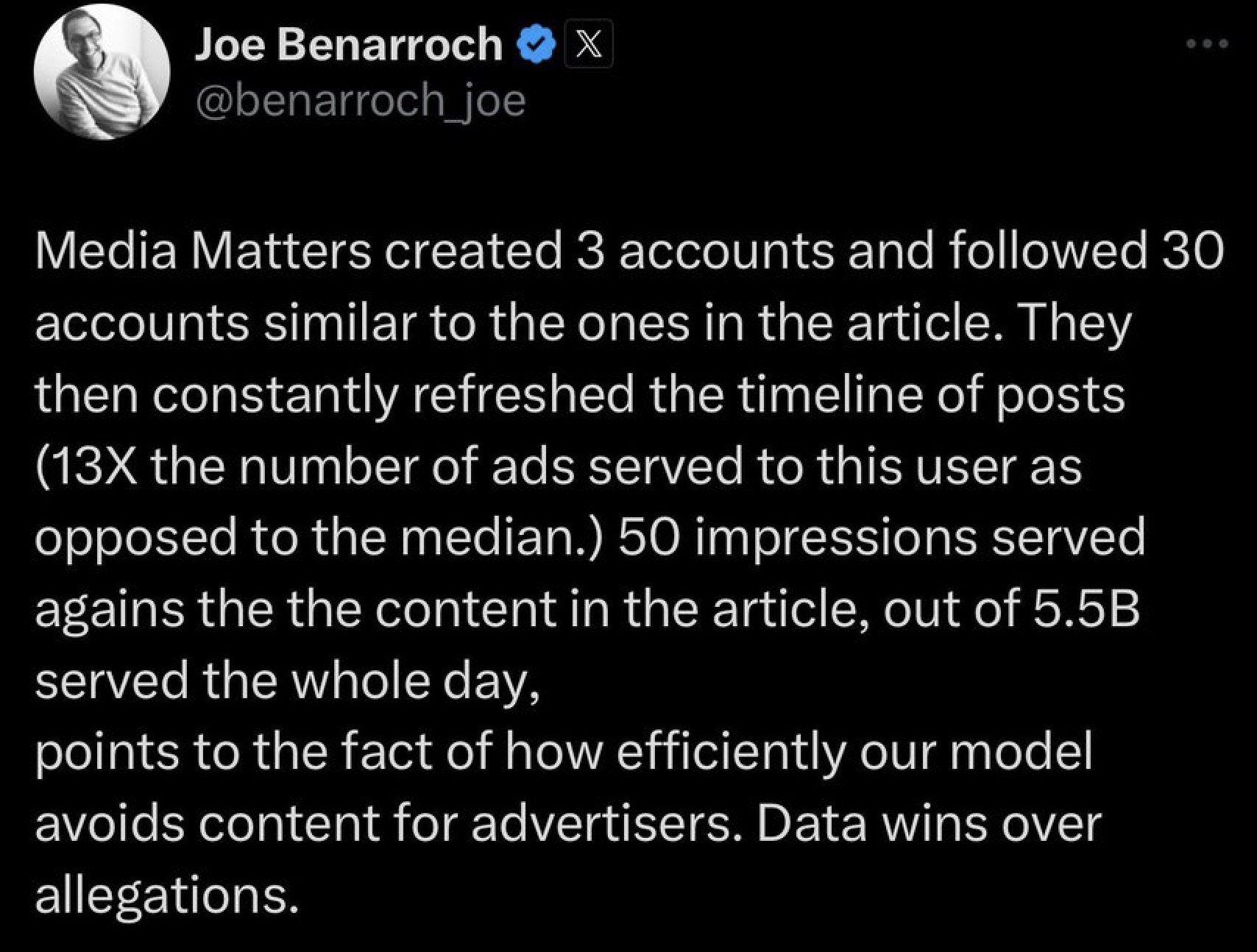 Twitter executive Joe Benarroch responds to Media Matters' claims.
According to Musk, these entities perceive X as a significant threat to their ideological narratives and the interests of their financial backers.
Further, Musk highlighted the tactics used by these groups, which he claims involve manipulating advertisers on X through deceptive means. By doing so, they aim to jeopardize the platform's revenue streams.
Musk was unequivocal in dismissing the Media Matters report as baseless and without merit, labeling it as "garbage."
Musk alleged that Media Matters established a dummy account and intentionally managed the posts and the propaganda showcased on the account as an attempt to conceal the authentic placement and context of the posts.
From X:
"Despite our clear and consistent position, X has seen a number of attacks from activist groups like Media Matters and legacy media outlets who seek to undermine freedom of expression on our platform because they perceive it as a threat to their ideological narrative and those of their financial supporters. These groups try to use their influence to attack our revenue streams by deceiving advertisers on X.
Here are the facts on Media Matters' research:

To manipulate the public and advertisers, Media Matters created an alternate account and curated the posts and advertising appearing on the account's timeline to misinform advertisers about the placement of their posts. These contrived experiences could be applied to any platform.
Once they curated their feed, they repeatedly refreshed their timelines to find a rare instance of ads serving next to the content they chose to follow. Our logs indicate that they forced a scenario resulting in 13 times the number of ads served compared to the median ads served to an X user.
Of the 5.5 billion ad impressions on X that day, less than 50 total ad impressions were served against all of the organic content featured in the Media Matters article.

For one brand showcased in the article, one of its ads ran adjacent to a post 2 times and that ad was seen in that setting by only two users, one of which was the author of the Media Matters article.

For another brand showcased in the article, two of its ads served adjacent to 2 posts, 3 times, and that ad was only seen in that setting by one user, the author of the Media Matters article.

Media Matters article also highlights nine posts they believe should not be allowed on X. Upon evaluation, only one of the nine organic posts featured in the article violated our content policies, and we've taken action on it under our Freedom of Speech, Not Reach enforcement approach.

Here's a summary on this all:

X will protect the public's right to free expression. We will not allow agenda-driven activists, or even our own profits, to deter our vision.
Everyone has a choice on X. User and brand control on X is superior to a year ago.
Data wins over allegations. Media Matters does not reflect the user experience on X."
The Center for Countering Digital Hate (CCDH) is also currently embroiled in several controversies,
including a lawsuit.
The lawsuit, initiated by X, accuses CCDH of causing the social media company to lose advertisers through a smear campaign that allegedly violated its terms of service.
"We will continue to protect the freedom of voices and opinions of users on X! Stand with us," wrote X CEO Linda Yaccarino.
The post
Elon Musk Announces "Thermonuclear" Lawsuit Against Media Matters
appeared first on
Reclaim The Net
.