Automated Import
Staff member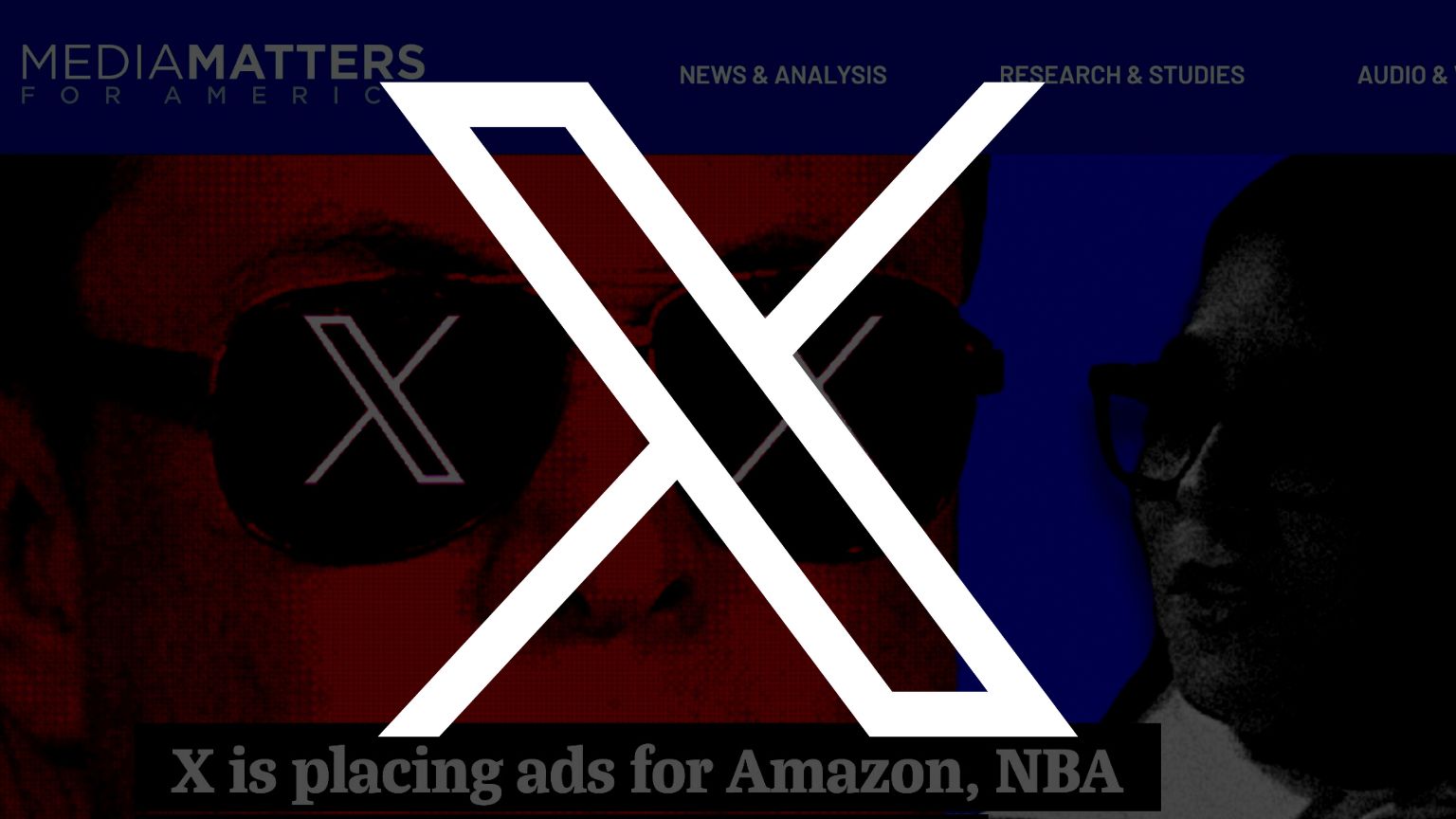 X Corp, the corporation behind the social media platform X, has filed a lawsuit against progressive activist organization Media Matters. X is contending that the group launched what X owner Elon Musk described as a "fraudulent attack" on X. Following pressure from the Media Matter's campaign, a vast array of high-profile corporations decided to discontinue advertising on X.
We obtained a copy of the lawsuit for you here.
As a result of these articles by Media Matters, X alleges it faced significant financial loss when
major advertisers
like Apple, Comcast NBCUniversal, and IBM withdrew their advertisements.
X accuses Media Matters of intentionally interfering with its contracts with these advertisers, making false statements that disparaged the quality of X Corp's services, and disrupting its economic relationships, resulting in monetary loss.
"Media Matters knowingly and maliciously manufactured side-by-side images depicting advertisers' posts on X Corp.'s social media platform beside Neo-Nazi and white-nationalist fringe content and then portrayed these manufactured images as if they were what typical X users experience on the platform," the complaint reads.
The lawsuit accuses of Media Matters of financially harming the company, saying: "For the last several years, Media Matters has falsely portrayed Twitter, now X, as a risky, unsafe platform for advertisers. Contrary to these efforts, 99% of X's measured ad placement in 2023 has appeared adjacent to content scoring above the Global Alliance for Responsible Media's brand safety floor."
X alleges that, "the end result was a feed precision designed by Media Matters for a single purpose: to produce side-by side ad/content placements that it could screenshot in an effort to alienate advertisers."
The lawsuit alleges that Media Matters manipulated the reality of the situation and accuses the group of, "generating between 13 and 15 times more advertisements per hour than viewed by the average X user repeating this inauthentic activity until it finally received pages containing the result it wanted: controversial content next to X's largest advertisers' paid posts."
X is seeking actual and consequential damages for the alleged misconduct, a preliminary and permanent injunction to remove the controversial article from all platforms controlled by Media Matters, and recovery of costs and attorney's fees.
Prior to the filing, Musk took to X, and had stated, "The split second court opens on Monday, X Corp will be making a thermonuclear lawsuit against Media Matters and ALL those who colluded in this fraudulent attack on our company. Their board, their donors, their network of dark money, all of them."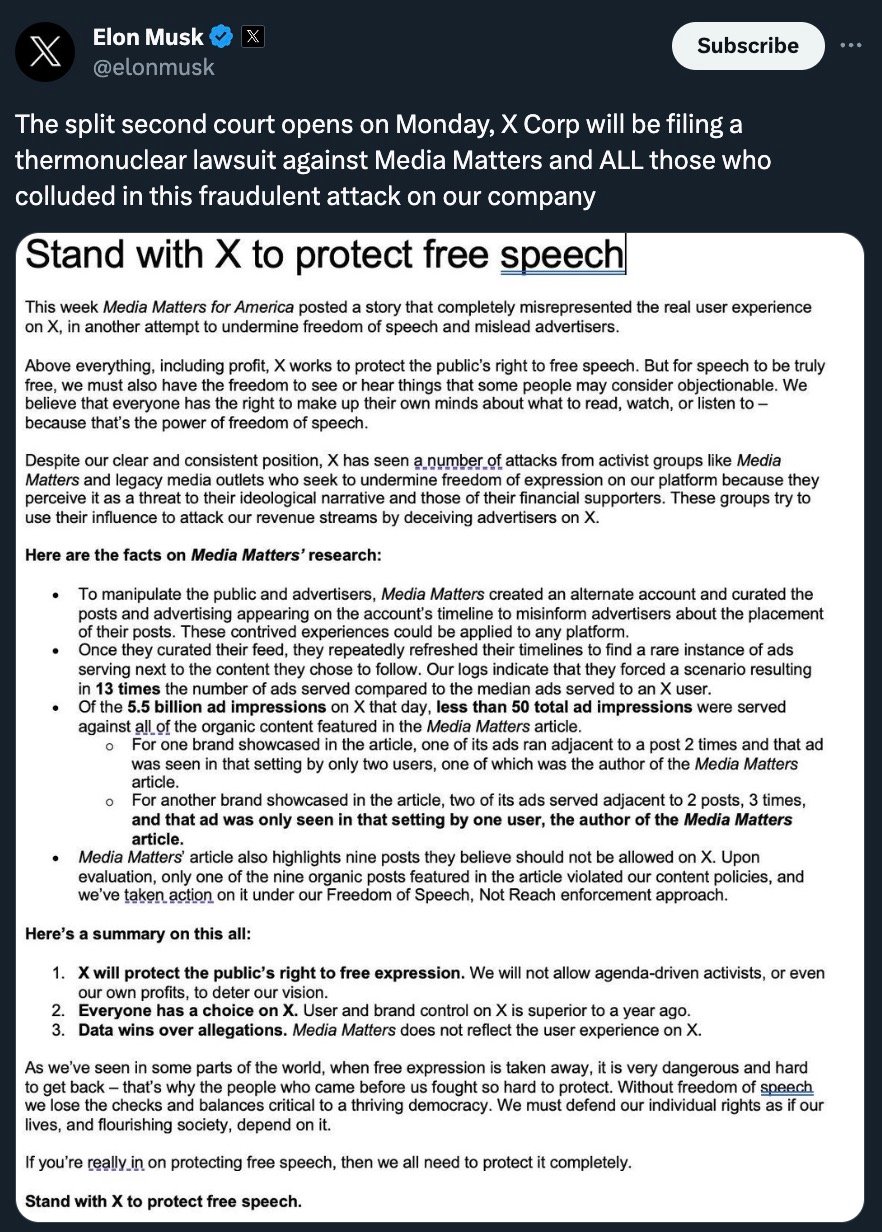 X CEO Linda Yaccarino stood firm in the face of the controversy.

"If you know me, you know I'm committed to truth and fairness. Here's the truth. Not a single authentic user on X saw IBM's, Comcast's, or Oracle's ads next to the content in Media Matters' article," Yaccarino posted on X. "Only 2 users saw Apple's ad next to the content, at least one of which was Media Matters. Data wins over manipulation or allegations. Don't be manipulated. Stand with X."
Previously, Yaccarino emphasized, "Protecting the freedom of speech could not be more urgent and important. Now, more than ever!"
In response to Musk's original accusations against the group, Media Matters president Angelo Carusone released the following statement: "Far from the free speech advocate he claims to be, Musk is a bully who threatens meritless lawsuits in an attempt to silence reporting that he even confirmed is accurate. Musk admitted the ads at issue ran alongside the pro-Nazi content we identified. If he does sue us, we will win."
The post
X Files Lawsuit Against Media Matters, Accusing the Organization of Manipulation and Defamation To Attack Free Speech
appeared first on
Reclaim The Net
.